CORINNE M. ABBOTT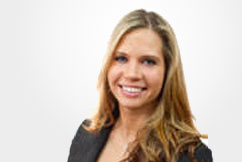 Corinne M. Abbott, Esq. of West Haven, Connecticut, received her undergraduate degree from Quinnipiac University in 2006 and her law degree from Quinnipiac University School of Law in 2010. She is licensed to practice law in both Connecticut Superior Court and New Jersey State Superior Court.
During Corinne's time at Quinnipiac University School of Law she was a member of the Mock Trial Society and participated in trial competitions along the Eastern Seaboard. She also worked at Connecticut Legal Services helping elderly clients navigate the court system and at various law firms, learning the ins and outs of real estate.
Corinne also acts as Senior Vice President for 4 Words Foundation, Inc., a non-profit organization supporting cancer awareness by hosting fundraising events where the funds received are utilized to provide necessary cancer screenings and treatments for individuals who cannot otherwise afford to obtain the proper treatment.
Areas of Practice:
Residential Real Estate
Estate Planning
Business Formation Services
Bar Admissions:
Connecticut, 2011
New Jersey, 2013
Professional Associations and Memberships:
Wallingford Alliance Group, Member
4 Words Foundation, Inc., Senior Vice President
Connecticut Mortgage Bankers Association, Social Affairs Committee